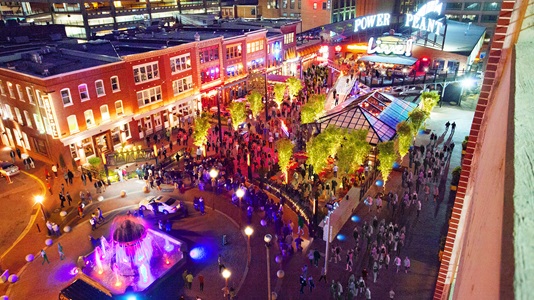 Phish for Kids
feat. Phoam
Presented By WTMD
After years of scheduling and rescheduling, we are very excited to share the return of our
Saturday Morning Tunes: Phish for Kids feat. Phoam on June 4 at Power Plant Live!.
So many of Phish's songs are kid-friendly. If you're a Phish fan with young kids, you've probably wanted to bring them with you to share you love of this incredible band.
Now you can -- at Power Plant Live!'s covered outdoor plaza, with Phoam, Baltimore's best Phish tribute band.
DAY OF INFORMATION

This is going to be the first matinee Saturday Morning Tunes, with doors opening at 11:30 AM and the show running 12-2PM.
Power Plant Live! will have all restaurants and bars open, with plenty of food and drinks.
ABOUT PHOAM

Phoam features members of Psycho Killers, ELM and Weekapaug Orchestra, who, together, have seen more than 300 Phish shows and pay close attention to Phish's delicate and challenging compositions. Plus, they know how to groove.
HAVE A 2020 TICKET?

Families who purchased tickets to the June 2020 Phish for Kids at Power Plant Live! (which never happened), can redeem those tickets at this show.
A NOTE FROM PHOAM

We love doing family friendly shows at Power Plant Live! because it's a bright, airy space but also contained (so kids won't be wandering too far), virtually indestructible, and outdoors but still covered.
This show is made possible in part by (cool) progeny and Maryland Excels.
Official Boozin Through the 90s Bar Crawl

Power Plant Live!

Bar Crawl Live!'s Official Boozin' Through The 90s Bar Crawl is BACKSTREET BACK ALRIGHT! We're calling all boy bands and gal pal groups to Power Plant Live! where we'll SPICE things up with the ultimate throwback tribute to the 90s.Tickets include waived cover, drink specials, automatic entry into our ultimate costume contest, access to live entertainment and more. 💿🍕


Tribute To Troops Festival

Power Plant Live!

Please join us for a special event at Power Plant Live! to honor our troops on July 3! Admission includes entry to the event and access to live music, line dancing lessons, mechanical bull riding, drink specials, food and retail vendors, and more! 🇺🇸🍻

Pride Bar Crawl

Power Plant Live!

The Pride Bar Crawl is coming to Power Plant Live! on July 9. Share the love and enjoy drink specials, interactive entertainment including axe throwing, exclusive access to the after party at PBR Baltimore and more! 🌈🍻


Miller Lite Hot Country Nights: Chris Lane

Power Plant Live!

Presented by 93.1 WPOC. Tickets on sale now! Doors 6pm. Show 8pm.